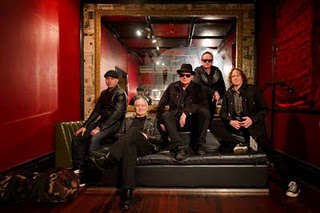 September will see the new look Angels head to Japan to play a benefit concert with Jimmy Barnes to help build a future for the locals whose lives were adversely impacted by the devastating earthquake and tsunami.
November/December 2011 will see The Angels embark on the "Waiting For The Sun" tour, which will be their first of many with Dave Gleeson up front. If the shows at The Annandale and Norwood were any indication, fans new and old are set for an Angels experience reminiscent of gigs in the early years at the Bondi Lifesaver in 1979.
Alan Lancaster – Status Quo
"It is like they are reborn! Definitely a step up. All the harmonies were in tune and the band played really tight. Dave fitted like a glove."
In launching the tour, The Angels have yet another surprise for their fans, releasing their first video since 'Caught In The Night" in 1997. Stay tuned and watch out for the official "Waiting For The Sun" clip coming soon.
TOUR DATES:
NOVEMBER
9th FLY BY NIGHT Fremantle WA
10th CHARLES HOTEL Perth WA
11th ENDEAVOUR TAVERN Lancelin WA
12th RAVENSWOOD HOTEL Ravenswood WA
19th GOVERNOR HINDMARSH Adelaide SA
23rd THE JUNIORS – KINGSFORD Kingsford NSW
24th DAVISTOWN RSL Davistown NSW
25th CANBERRA STHN CROSS CLUB Canberra ACT
26th BELMONT 16FT SAILING CLUB Newcastle NSW
DECEMBER
1st COMMERCIAL HOTEL South Morang VIC
2nd FERNTREE GULLY HOTEL Ferntree Gully VIC
3rd CHELSEA HEIGHTS HOTEL Chelsea Heights VIC
4th MACS HOTEL Melton VIC
8th MARLIN HOTEL Ulladulla NSW
9th PENRITH PANTHERS Penrith NSW
10th DEE WHY RSL Dee Why NSW
15th REDLAND MULTI SPORTS CLUB Brisbane QLD
16th NORTHS LEAGUES CLUB Brisbane QLD
17th TWIN TOWNS SERVICES CLUB Gold Coast QLD