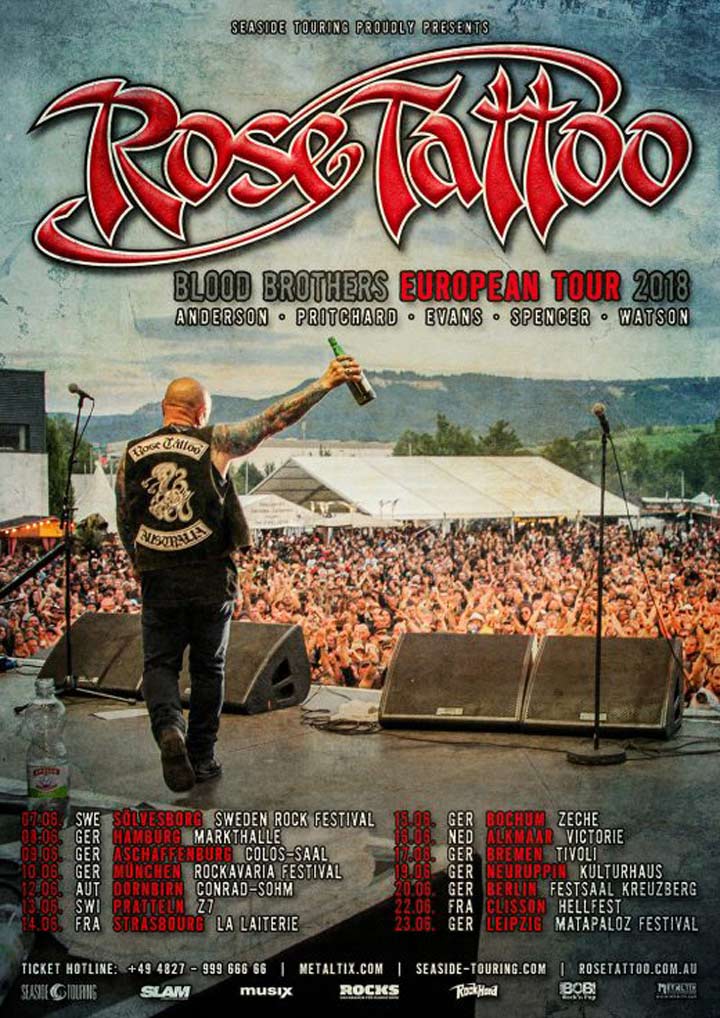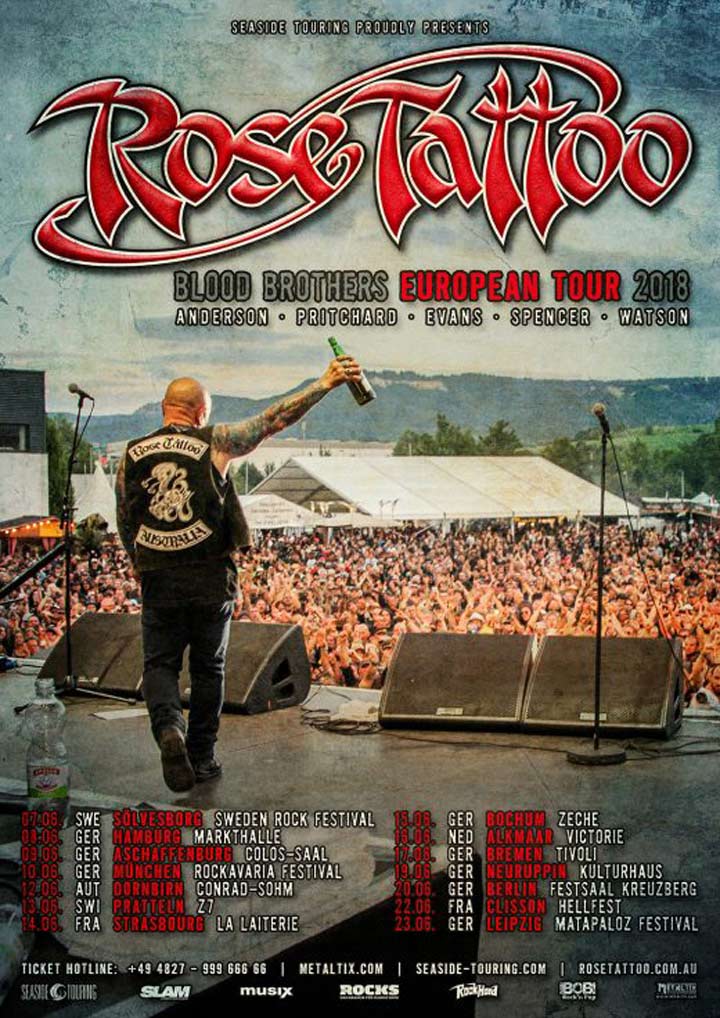 Rock N' Roll outlaws, Rose Tattoo announced their Blood Brothers 2018 Tour late last year.
Now, they are excited to announce performances at Swedenrock, Rockavaria and
Hellfest European Summer Festivals along with their own sideshows.
Special guests have
been added to the Australian tour dates including Palace Of The King, Dead Hand Blues,
Child, Hitmen, and Dallas Crane.
"HITMEN have been fighting the war against the jive alongside our Comrades
Rose Tattoo since the late 70's and have shared many a stage across the mighty
beer barns of Australia. We're now happy to be reuniting once again in an
exciting period of our career where we've just released our new mini album "Six
Pistols. We're ready!" – Johnny Kannis
"Sharing the Alberts label with Rose Tattoo and AC/DC was one thing, but sharing
the stage with the awesome power of the Tatts puts a pretty large tick on 2018
already for Dallas Crane." – Dallas Crane
Rose Tattoo's lineup comprises legendary bass player extraordinaire, Mark Evans of
AC/DC fame, iconic guitarist Bob Spencer – The Angels & Skyhooks, the keeper of time,
John 'Watto' Watson, Australian Crawl, Pete Well's endorsed Dai Pritchard on slide and
the quintessential front-man, the indomitable Angry Anderson.
Blood Brothers album was originally released in early 2007 to rave reviews such as
"powerful, unrelenting and wildly uncompromising." Rose Tattoo have been described
as, "One of the most revered bands of all time. The Tatts play peerless, street-level, heavy
blues with the emphasis on slide guitar and strident lyric statements" – Ian McFarlane
Music Historian.
Rose Tattoo has been a classic rock institution for nearly forty years. The Blood Brothers
2018 Tour guarantees to deliver unadulterated, adrenalin fueled, dirty Aussie rock at its
finest.
Blood Brothers Australian Tour Dates
Saturday March 31 SS&A Club Albury NSW with special guests Palace Of The King
Friday & Saturday April 6 & 7 Bridge Hotel NSW with special guests Hitmen
Friday April 13 Beach House Hervey Bay QLD with special guests Dead Hand Blues
Saturday April 14 The Shed @ Aussie World QLD with special guests Dead Hand Blues
Friday April 20 The Gov Adelaide SA with special guests Dallas Crane
Saturday April 21 Gateway Hotel Geelong VIC with special guests Child
Sunday April 22 Corner Hotel Melbourne VIC with special guests Dallas Crane (Afternoon Show)
Friday April 27 Miranda Hotel NSW with special guests Hitmen
Saturday April 28 Cambridge Hotel Newcastle with special guests Hitmen
Rose Tattoo European Tour Dates
Thursday June 7 Swedenrock Festival SWE
Friday June 8 Markthalle Hamburg GER
Saturday June 9 Colos-Saal Aschaffenburg GER
Sunday June 10 Rockavaria Muchen GER
Tuesday June 12 Conrad-Sohm Dombirn AUT
Wednesday June 13 Z7 Prattein SWI
Thursday 14 La Laiterie Strasbourg FRA
Friday June 15 Zeche Bochum GER
Saturday June 16 Victorie Alkmaar NED
Sunday June 17 Tioli Bremen GER
Monday June 18 Kieler Woche Kiel GER
Tuesday June 19 Kulturhaus Neuruppin GER
Wednesday June 20 Festsaal Kreuzberg Berlin GER
Friday June 22 Hellfest Clisson FRA
Saturday June 23 Matapaloz Leipzig GER