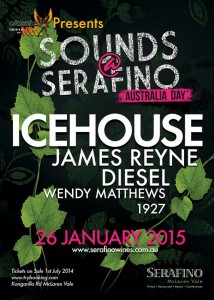 This Summer, Serafino McLaren Vale are proud to announce, Sounds @ Serafino, Australia Day Concert, Monday January 26, 2015.
With the backdrop of the stunning Serafino Winery, this annual afternoon event, will impress with a stellar lineup of Australia's elite bands and musicians.
To open the event with total class will be Wendy Matthews. There are very few artists in Australia who come close to to Wendy Matthews and her stunning credentials: seven Arias, a massive 19 hit singles, and seven gold or multi platinum selling albums. Her career defining album 'Lily' sold over 500,000 albums and over 300,000 singles of her mid 90's now signature song 'The Day You Went Away'. Her albums can be found in over one and a half million Australian homes.
Mid afternoon, 1927 will take to the stage. In the summer of 1989 'ish' was released with ARIA charting singles, 'That's When I Think Of You', 'You'll Never Know' and 'Compulsory Hero.' This saw 1927 break the the Australian and U.K. Markets. Smash hits 'Tell Me A Story' and 'Scars' promptly followed. In 2009, 1927 reformed supporting Simple Minds and Roxette on their national tours.
Following 1927, singer-guitarist extraordinaire Diesel will lift the crowd to a another level. Diesel left Perth some 25 years ago, and hit the road. Within a matter of months he made his way across the Nullarbor, blitzing it live and heading for a national top 3 album chart debut. Five ARIA Awards later, with three for 'Best Male Artist' in 1993, 1994 and 1995 and massive hit singles, 'Don't Need Love', 'Soul Revival', 'Cry In Shame', 'Lookin For Love' and 'Tip Of My Tongue' and the name 'Diesel' was on all the charts. These songs take you to a place and time of great memories and fun in the sun.
Iconic frontman, James Reyne will bring his songs that have provided the soundtrack to endless Australian summers. Recognised for his extensive charitable undertakings, Reyne received an Order Of Australia in January. His massive hit song 'Reckless' featured heavily in the promotion of the new series of TV show 'Puberty Blues', and the recent re-release of the Australian Crawl catalogue on iTunes resulted in a #4 ARIA Album Chart position for 'The Greatest Hits'.
After the sun has set and as part of their Platinum Concert Series, ICEHOUSE, one of Australia's most respected bands of all time, will headline Sounds @ Serafino. With an uncompromising approach to music production, ICEHOUSE frontman Iva Davies created songs that ranged from pop escapism to edgy lavish synthesised pieces. Their album, 'Man of Colours', was still the highest selling album by an Australian artist in Australia in 2006, almost 20 years after it was originally released. Massive hits like 'We Can Get Together', 'Great Southern Land', 'Hey Little Girl', 'Can't Help Myself' and 'Electric Blue' are branded into our music psyche and saw the band being inducted into the ARIA Hall of Fame in 2006.
Serafino wines, exquisite food and the best in Australian Music on Australia Day.
Sponsored by the City of Onkapringa.
Tickets available from at: www.trybooking.com
1st July to 1st September $85 pre sale, $99 normal, $160 VIP
For more information visit: