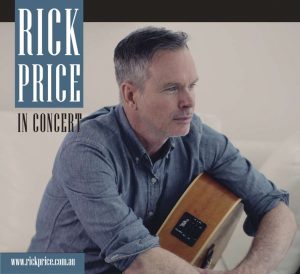 Rick Price has just come off a run of dates with Tommy Emmanuel in the U.S.A., to sold out audiences.  Rick  road tested some of this new material from his forthcoming album  'Tennesee Sky'.  The audiences lapped up the new material and were asking when they could purchase a copy.
Thanks to the overwhelming response to the Pledge Music campaign we ran recently,  Rick is now in the final stages of recording.  'Tennesee Sky' is being recorded in Nashville and Rick has collaborated with fellow friends and musicians, Tommy Emmanuel, Tamara Stewart and Anthony Snape on some amazing new tracks.  'Tennessee Sky' is scheduled for release in Feburary 2015.
For those fans who are keen to hear some of the new material, Rick will be back on our shores in October to perform on the festival circuit. He will have pre release copies of his new album and his new single 'Work That Fire' which is planned to be out on itunes on October 3.
Rick will combine some intimate shows at his preferred venues around Australia.  The pre album release tour will begin at Bangalow Bowling Club on October 9, then followed by shows around the country, including Sydney Blues Festival, Wingham Akoostik Festival and Blues @ Bridgetown.
Rick Price has achieved world wide hits with 'Not A Day Goes By', 'Heaven Knows',' River Of Love' and 'Walk Away Renee'. Along with Gold and Platinum album sales, Rick has also received numerous Music Industry awards including: 'Album Of The Year' and 'Song Of the Year'. Rick has released eight albums over his stellar career.  'Tennesee Sky' promises to deliver a variety of musical styles with Rick exploring all the aspects of his musical abilities, and writing with some of the best in the business. 'Tennessee Sky' brings out the musical sensibilities he has continued to hone and expand on. Rick prides himself on delivering a quality product and 'Tennesee Sky' will be nothing short of this, a 'must have' for your musical collection.
"I'm excited to be in the studio recording my new album 'Tennessee Sky' and looking forward to returning to Australia for my tour in October. The new single from the album is called 'Work That Fire'. I wrote the track with New York Producer Gary Gold. It has an uplifting driving feel of old school gospel. I'm excited to be exploring some new musical territory on this album." – Rick Price
To pre-order a copy of new Rick Price album visit: www.rickprice.com.au