MATT FINISH LIVE 2012

Matt Finish's most popular recent line-up returns in February 2012 for a series of Australian shows to promote the release of their remastered collection of albums entitled Set One and Set Two capturing the magic of one of Australia's most creative and dynamic bands since the eighties.
Complimenting the consummate vocal talents of David Adams, Matt Finish will be performing all the best-known songs from their extensive original repertoire including Short Note, Mancini Shuffle, Hot Cover and Fade Away with extreme musicianship from Guy Le Claire, Harry Brus and John Prior, all highly respected, gifted and influential composers and instrumentalists.
David Adams is one of Australia's most recorded singers and you probably hear him on television and radio every day. Born in the US and currently residing in Tasmania, Dave played with Matt Moffitt in the seventies before Matt Finish and enjoyed a parallel career in the eighties with his band Full Marks.
Guy Le Claire is Matt Finish's lead guitarist, currently based in Hong Kong and performing around Asia as a jazz bandleader. Guy is best known in Australia for his work with Eurogliders and Ian Moss and as head guitar teacher at the Australian Institute of Music during the nineties.
Harry Brus aka "The Doctor" is an accomplished composer, singer, guitarist and bass player best known for his work with Kevin Borich, Renee Geyer, Australian Crawl, Leo Sayer, Long Way To The Top and Matt Finish.
John Prior formed Matt Finish in 1979 with Matt Moffitt and has since composed and produced thousands of soundtracks and a hundred independent albums including three ARIAs and a #1. John is also recognized for his drumming with Adrian Belew, Mick Taylor, Roy Buchannan, Dale Barlow and Jackie Orszaczky.
Recent guest performers with Matt Finish include Rick Grossman, Dale Barlow, Tim Gaze, Kevin Borich, Mal Eastick, Glen Bidmead, Barry Leef and Steve Edmonds… so expect lots of surprises.
Contacts >
John Prior > john@prior.com.au | phone: 02 424 450 881
Cat Swinton > catherine@catalystpr.com.au | phone: 02 411 333 190,
Official website: Band history /
bio: Chronology: Youtube: Facebook: Myspace: Reverbnation:
MATT FINISH SET ONE + SET TWO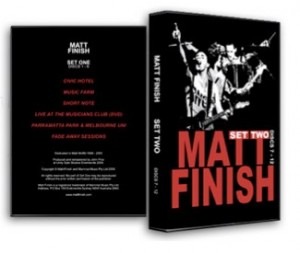 Matt Finish's collection of digitally remastered albums is now available as two sets of six discs, including eleven CDs and one DVD, a total of 187 tracks.
Following the unmitigated success of Flight Case (2009 limited edition 12-disc box-set), Set One and Set Two trace the blow-by-blow history of Matt Finish, one of Australia's most independent, inventive, powerful and popular live bands, influencing and influenced by friends and contemporaries in Midnight Oil, INXS, Cold Chisel, Icehouse, XTC and U2.
SET ONE (discs 1 – 6)
• CIVIC HOTEL
• MUSIC FARM
• SHORT NOTE
• LIVE AT THE MUSICIANS CLUB
• PARRAMATTA PARK & MELBOURNE UNI • FADE AWAY SESSIONS
• 6-page dvd booklet
SET TWO (discs 7 – 12)
• WORD OF MOUTH Alberts Mix • WORD OF MOUTH Rhino Mix • AT THE TIVOLI
• TRUCK SURFING
• KITE ON A HURRICANE DAY • 1978 – 2008
• 6-page dvd booklet
Available from www.mattfinish.com, Redeye Records and Ebay. Set One $110, Set Two $110, both $195
MATT FINISH QUOTES & REVIEWS
"Matt Finish, I've followed them for a long time." Pete Townshend, The Who
"A talented, tightly-wound troop oozing heart, mind and melody." Rob Hirst, Midnight Oil
"A driving 3 piece with brooding songs and soundscapes that were unique at the time and still are. We enjoyed playing with them a lot in the hurly burly pub scene of the early '80's." Peter Garrett MP, Midnight Oil
"An inspiration." Tim Gaze, Tamam Shud, Ariel, Jimmy Barnes, Jon Lord
"A brilliant band." Ted Gardner, Lollapalooza co-founder, Tool manager
"One of the great Australian song bands." Glenn A Baker, Rock Brain Of The Universe
"Matt Finish inspire a near-fanatical following." Murray Engleheart, Juke
"They came on like a rock band, all tee shirts and denim, made like a jazz band."
Phil Stafford
"With fistfuls of dust lashing their faces, Matt Finish went the fang. Mad dogs cutting into a striving performance that simply blistered with power and passion." Andrew McMillan
"For Matt Finish, it is as if music is sacred and its language a privilege". Christie Eliezer "Triumphant… full of swagger… enigmatic… Australian classic." Jo Robinson, The Age
"Music is next to laughter as medicine for the soul and I could easily OD on this dose."
Deb Lalor, What's On Central Coast
"I've loved this song for a long time now. It reminds me of hot summer nights. There's nothing like songs and smells that can take you back to an exact second in time – and this is one of those songs for me." Wendy Matthews on Short Note
"Short Note is widely regarded as an all-time Australian classic." Michael Smith, Drum Media
"Word Of Mouth is one of the most arresting, splenetic, lyrically incisive, musically colourful and emotionally candid albums produced in this country." Brecon Walsh
"Whenever we flew internal across Australia on tour, drummer Terry Chambers always seemed to be playing Matt Finish's cassette on his walkman. I borrowed it from him a few times and we'd talk enthusiastically about their music. Terry and I loved one of their drum rhythms so much, a hi-hat pattern actually, that we 'borrowed' it for a song on XTC's next album, Knuckle Down from English Settlement. Thanks lads. Nice bunch of blokes who helped make our first Aussie tour so relaxed and friendly." Andy Partridge, XTC