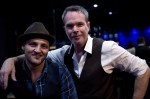 Glenn Cunningham & Rick Price played a mid September show at Sydney's Blue Beat in Double Bay.
Both appearing solo, and also together, John Snelson from Get Shot Magazine writes how Glenn's set was "Pure Magic".
John goes on to say of Rick Price, "You won't find a performer more responsive to his audience……."
You can read about both these special presentations on the Get Shot Magazine web site.
Click here to read John's review of Glenn Cunningham's performance and also click here to read on about the Rick Price set.