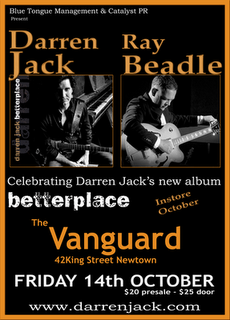 Darren Jack, is a powerful vocalist and one of Australia's top blues guitarists. He is a performer that exudes emotion and a feel for every note emanating from his guitar, which is more an extension of not just of his hands but of his very soul.
14th October Darren Jack releases his new album 'Better Place' on iTunes and celebrates this release with another of Australia's most brilliant blues performers and long time friend Ray Beadle. With Ray opening the show performing his exhilarating guitar and vocals the Vanguard will be bursting at the seems with warmth, funk and soulful tunes.
The Album, 'Better Place', holds eight of the eleven tracks as original compositions. 'Jacko' has immersed himself in these new works, broadened his song writing skills, his voice has matured and he has definitely retained those magic guitar licks throughout. The shows following this album will showcase this new stage in his career.
Don't worry, underneath the silk of this craftily composed album, he has retained that hard edged guitar driven blues that defines his life journey.
www.darrenjack.com.au
www.facebook.com/darrenjackmusic
www.raybeadle.com